Sarabhuj - A socio cultural institution from Rangamati, Midnapore (West Bengal), has been playing an intrinsic part of the movement for the revival, propagation and appreciation of traditional Folk Culture since, 1986, under the able guidance of Sri Tamn Pradhan.

The organisation is able to function meaningfully by adhering to the values and ideas of Indian Art aesthetics and deriving its strength and inspiration from the warmth and fragrance of the earth. Sarabhuj has preserved to uphold the true essence of Indian Culture - Dance, Theatre and Mime.

Not limiting itself to on-stage performance, Sarabhuj involves itself in many social-welfare programmes. Plays worthy role in social awareness of traditional Culture through workshops, seminars, training, fairs, live-demonstrations and documentation of all the above.

Sarabhuj has performed in many National and International Festivals and has represented India in many foreign countries and has received much uplaud and appreciation. Sarabhuj seeks to reach out to all humanity with its message of peace and joy, through its rhythm.
Beside Dance Sarabhuj has produced some theatre productions. The theatre production of Sarabhuj are - Pathbhogta, Amra Sabai Raja, Saju Rupai Kathakatha, A mid Summer Night's Dream (NSD Collaboration), Megh Balika, Aranya Purus (Story from Mahasweta Devi).
NATIONAL AND INTERNATIONAL PERFORMANCE
Republic Day Dance Festival New Delhi.
National School Of Drama.
National Martial Dance Festival Maharastra.
CPC Doordarshan Programme, New Delhi & Kolkata.
Andaman Nichobar Deep Mohotsav.
National Martial Dance Festival.
Bahurupi Theatre Festival.
Natya Academy Festival.
Dashera Festival at Kulu, Simla Patiala, Punjab.
World Science Congress.
Kanchanjungha Festival.
Puri Beach Festival.
Asia Theatre Festival, organised by NATYA ACADEMY, Kolkata .
Bali Jatra Festival.
Choreography Festival, Sahitya Kala Parishad, New Delhi.
Dooars Utsav & Tea Garden Festival at North Bengal.
Pathbhogta - Mahakal Natya Utsav, Dhaka.
Shilpa Gram Festival at Udaypur.
Padya Gangya Utsav.
National programme at Vice President House (New Delhi).
Baisakhi Folk Dance Festival, I.C.C.R., New Delhi and President House, New Delhi.
Olympic Torch Rally Performance, New Delhi.
National Dance Festival, Pondicherry.
Navratri Festival at Gujrat.
Baishaki Festival at Punjab.
Bal Sangam (Children Group) NSD, New Delhi.
Mohua Sundary, Nrityalok at Kolkata.
Rajya Bhayaiya Utsab Uttar Banga.
Celebration of 150 years or Mahabidroha at Lalkilla Fort, New Delhi.
Virasat Utsav at Daradun.
Kalinga & Dhouli Festival by Indian Tourism (Orissa).
Tista Ganga Utsav (North Bengal).
Indian TRADE FAIR at Pragati Maidan (New Delhi).
Lok Tarang Festival Delhi, Punjab & Joypur.
Performance in Lakha Deep Festival lakshdeep & South Zone cultural Centre.
Republic Day at Delhi & Chandigarh.
Rail Sanskrit Yatra Organised by Indian Railway at Goa, Trivandam & Kanpur.
Performance for 15th August celebration at Jaipur organized by Jaipur Sangeet Natak Academy.
National School of Drama New Delhi - Jasnebachpan - Bho - Katta.
INTERNATIONAL PERFORMANCE
1995 - India Fair in U.A.E. Dubai, organized by Indian association of Dubai & Zonal Cultural centre of India
1997- Represented India in Asian Week Festival at South Korea as Indian Representative sponsored by I.C.C.R. Govt. of India.
1999- Represented India in Babylon Festival at Iraq as Indian Representative sponsored by I.C.C.R. Govt. of India.
Presented a show in Jordanian Royal Academy at Amman, Jordon.
1997 - Visit to India Fair in U.A.E., Dubai, organized by Indian association of Dubai & Zonal Cultural centre of India
1999 & 2000 - Cultural festival in Jessore organized by Udichi, Bangladesh.
2008 - Incredible India @ 60 programmes in Singapore, organized by Ministry of Tourism & Ministry of Culture.
2009 - Artist of Sarabhuj participated in llth Asia Week festival at China (Basing), organized by ICCR.
2009 - (Oct & Nov) Lecture Demonstration in Mauritius, Mahatma Gandhi Institute (South Africa).
2010 - Performance at South Africa (Petroriya) for celebration of 17th world Youth Festival.
2013 - International Theatre Festival Dhaka, Bangladesh.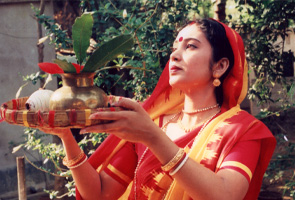 Tarun Pradhan director, choreographerand and performer in the field of Culture from his early days under the proper guidance of his father Late Kushadhawaj Pradhan, the eminent traditional artist. Motivated by Guru Saday Dutta's "Brathachari" Movement, and with the inspiration from the eminent scientist Dr. Amitava Bhattacharaya, achieved Highest position in the International troup in his grooming days. Along with his Post Graduation in drama from Rabindra Bhrathi University, edged himself in various aspects of performing Arts from various eminent artist mentionable, Sri Sujan Kalindi, Padmashree Guru Gambhir Singh Muda, Sri Niranjan Goswami, Sri Jogesh Dutta and others. Secured Gold medal in Calcutta University campus, awarded the Young Talent Scholarship and national fellowship from Govt. of India, comprehended by various award and felicitations from different renowned cultural origination several time in India and abroad, Apart from Sarabhuj, he is connected with Rabindra Bhrathi University as a guest lecturer. And is frequently invited by "Paschim Bangla Natya Academy" as a traditional folk dance ,mime and body movement artist. He is invited by and worked with eminent directors, in their dance and Theatre Group.

Most importantly mention may be made of his contribution as a performer, Director and choreographer of Sarabhuj an internationally acclaimed institution.