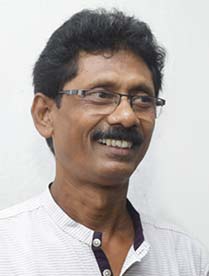 Mr. Pradhan is the Founder Director & Artistic Choreographer. Dr. Tarun Pradhan is well known name in the field of Traditional Dance, Theatre & Founder-Director of SARABHUJ (20 regular Repertory member) has been playing a great role on Traditional Folk Dance & Drama - in the cultural history of Bengal and the country as well since last two decades. He specialized in Drama in the Graduate, Post-Graduate and Doctoral levels at the Rabindra Bharati University and is currently working with the University as a lecturer in the Dept. of Drama.
Tarun Pradhan was initiated into Bengals traditional art forms at a very young age by his father, Late Kushdhawj Pradhan, an eminent traditional Guru of his time. He was motivated by Shri Guru Saday Dutt's 'Bratachari' movement and became a member of the international troupe that promoted Bengal's martial art forms all over the world. He was initiated into Mime by Jogesh Dutta, Niranjan Goswami and Marshal Marso deserved special mention. He has also been influenced by other great performing artists among whom Sujan Kalindi, Padmashree Guru Gambhir Singh Muda, Dr. Amitava Bhattacharya.
Tarun Pradhan's many awards and recognitions include the Gold. Medal in Mime Theatre at the Calcutta University Campus Competition, the young talent Scholarship and the National Fellowship from the Govt, of India. He has performed extensively all over the country and abroad as a performer, choreographer & director of Sarabhuj. He has travelled with his troupe, Korea, Iraq, Jordon, China, Singapore. He has also choreographed the dance and martial art scenes in many major theatre productions.
Tarun Pradhan choreographed the folk ensemble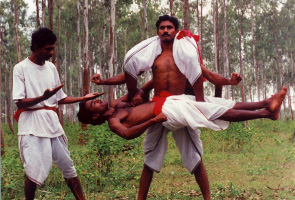 which included nearly hundred dancers for the Incredible India, @ 60 programme in Singapore, organized by the Ministry of Tourism and Ministry of Culture, Govt. of India,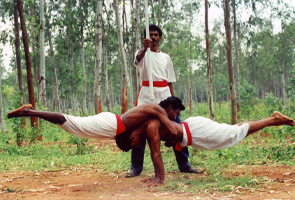 which incorporated 15 dance forms from the different parts of the country. Dr. Pradhan colourful vibrant and exuberant choreography was highly appreciated. Tarun Pradhan is frequently invited by the Paschim Banga Natya Academy as a Mime and Body Movement expert. His tireless endeavor for revival, propagation on rare Traditional Dance, Theatre and body movement has brought him closer to the audience.
His repertory production
RHYTHMS OF RUSTIC SPIRIT, GAJAN, PAT BHOKTA, SAJU RUPAI KATHA KATHA, DAK GHAR, BHO-KATTA, BANGLAR MUKH.
Choreography Work
REALIZATION, HANES, MODERN EDUCATION, CREATION, MUKTI, IMAGE, INNER STRUGGLE, EX PRESSION.